The man behind Savvy Contemporary: meet Dr. Bonaventure Ndikung!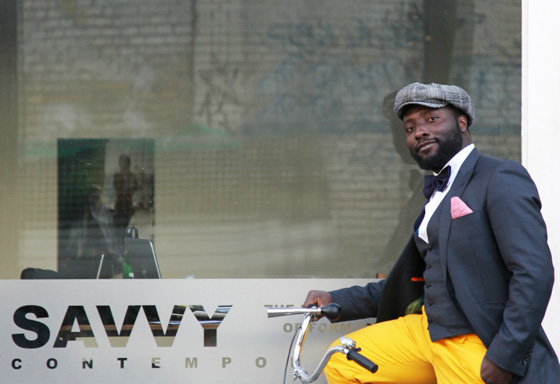 If you do appreciate art then Savvy Contemporary will definitely ring a bell.  Savvy Contemporary is a non-profit art space located in Berlin Neu Köln,  a laboratory for conceptual, intellectual, and artistic production and
exchange that takes up the challenge of investigating the 'threshold' between, as well as critically reflecting on and questioning discourses around »Western art« and »non-Western art«.  In this regard, SAVVY
Contemporary is a fertile ground for a critical and intellectual discourse on the development of contemporary art as well as on positions of contemporary art in the diaspora. Due to its historical and geo-political
background as a former frontline town in the East-West-conflict, Berlin is particularly stamped by an East-West-dialogue. Thereby, other important and leading issues like the North-South-dialogue were ignored for a
long while. SAVVY Contemporary takes upon itself this duty to promote and advocate the North-South-dialogue in the art scene in Berlin. Savvy Contemporay has many goals to realise and it is intended to support its
project by acquiring financial help from sponsors. Become a friend!
About the founder of Savvy Contemporary: Bonaventure Soh Bejeng Ndikung (PhD), was born in 1977 in Yaoundé, Cameroon. He has been living on and off in Berlin since
1997, where he studied food biotechnology at the Technische Universität Berlin. He completed his doctorate in medical biotechnology at the Heinrich Heine University in
Düsseldorf and a post-doctorate in Biophysics in Montpellier. He currently works, parallel to his activities as a curator, as a scientist in a medical device company. He is the
founder and art director of the art space SAVVY Contemporary Berlin, where he has directed and curated exhibits with more than 30 artists from five continents. He has
worked as curator, art director and consultant for several international exhibition projects and festivals in Germany, France, England and Cameroon, and has published
more than 15 exhibition catalogues. He is also the initiator and editor-in-chief of the journal SAVVY art.contemporary.african, the first bilingual e-journal on contemporary
African art. He has cooperated on different projects with the Tensta Konsthal Sweden, Goethe-Institut, Institut für Auslandsbeziehung (ifa), Kunstraum
Kreuzberg/Bethanien, Arsenal Institut für Film und Videokunst e.V. Berlin.
Links: http://savvy-contemporary.com/
Foto credit: Paul Huf
Comments
comments