See Which Uprising Stars Performed At The fashNet Premiere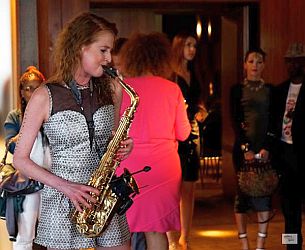 With music, she is able to express emotions and thoughts she cannot describe in words. Melanie Piontek mesmerised her audience at the fashNet event with her saxofon performance.
Photo Credits to Andrea Speer
.
DJ Nana Sky kept her audience on their feet at the fashNet Event with great tunes and remixes
Gemeni District: This amazing Songwriter/Rapper/Singer and MC, rapped the sound track to the BAGGER/MOYUMBANO accessory showcase at the fashNet Event. His addition  streetstyle performance definetely brought some life in to the event.
Adi Wolf and her band entertained the fashNet audience with some soul music right from her soul. That magic voice did not go unheard in the heart of Berlin City.
Photo credits to Deborah Gunn
Comments
comments