PRESS RELEASE FOR BBCL MEET UP EVENT 30TH DECEMBER 2014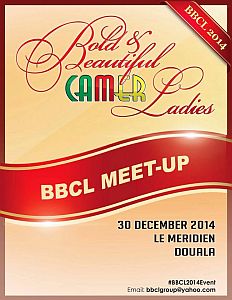 The Bold & Beautiful Camer Ladies (BBCL) group was established with the intention of bringing
together young and dynamic Cameroonian ladies who are very active worldwide in promoting
their business activities, mainly on social media. The group currently has over 400 members
located around the world with a potential reach of over 600,000.
BBCL is a diverse group of young Professionals who are experienced in:
Banking, Healthcare, Pharmaceuticals, Energy, Telecommunications, International Relations,
Publishing, Marketing & Public Relations, Project Management, Information Technology
Entrepreneurs in Fashion Design, Interior Decoration, Hair & Beauty, Business Consulting,
Marketing & Public Relations, IT Consulting, Event Planning, and Project Management
Bloggers in Fashion & Lifestyle, Hair & Beauty, Entertainment, Business, Technology, with focus
on Cameroon, Africa & Worldwide
The first Meet Up/Networking Event is scheduled to take place on December 30th at Le Méridien
in Douala, Cameroon. The event aims to foster networking between young professionals,
entrepreneurs, bloggers, media and entertainment personalities and cooperate sponsors.
The BBCL Meet-Up is an opportunity to meet, exchange ideas, educate and to create awareness
about the different activities, perspectives and importance of blogging and Cameroonian women
on social media. This is primarily to participate in a community promotion, display strong support,
share a collective vision among members and partners and economic actors for the development
of Cameroonian women bloggers and enhance the image and culture of the country.
Sponsors & vendors will showcase and/or sell their products & services in a mini exhibition and
have them reviewed by bloggers.
We are proud to present to you our Sponsors and Vendors.
BRONZE SPONSOR:


Madiba Consultants
Our OTHER SPONSORS include a variety of companies, businesses and bloggers that will
provide their services and/or will be providing us with amenities for the BBCL Meet Up event.
Our MEDIA PARTNERS will be providing media support during the BBCL Meet Up event.
Event Hashtag #BBCL2014Event
EVENT PROGRAM
Meet & Greet/Exhibition/Cocktail Hour – 14 :00 – 16 :30
Welcome Speech
Presentation of BBCL-Ladies and Sponsors
Presentation : Blogging & Effective Collaboration with Businesses and Entrepreneurs
Panel Discussion
1st Guest Artist
Fashion Show
2nd Guest Artist
Thank You/Networking/Event Close
Comments
comments