Nigerian Brides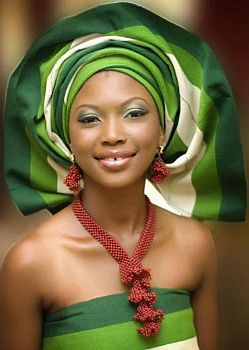 Looking at pictures of Nigerian traditional wedding ceremonies leaves me, I must admit, wanting to marry all over again. This time just 'traditionally'. Some will say madness but I think the whole traditional wedding ceremony and putting it together must be fun. In many African cultures, this ceremony is a treasured tradition which unites families from both sides of the couple to be betrothed.
Starting with the dress code of the day, one generally observes that Nigerians have definitely evolved in the way they wear their traditional outfit. The marriage ceremony is not only entertaining but is also a colourful affair with dresses similar in their vibrancy yet each outfit remains an individual work of art, complete with head piece. The beautiful brides wear meticulously applied make-up making the whole picture fabulous.
Although marriage traditions may vary from rural to urban areas, weddings in Nigeria often follow several common customs. Formal meetings between the couple's families, the offer of a dowry and an engagement ceremony are all traditional events prior to a wedding ceremony. While dating and selecting your own spouse is now the norm in many urban areas, arranged marriages are still frequent in Nigeria too.
The nitty gritty details of the traditional wedding ceremony depend upon the local custom in an area – for example, the bride's elders may help her to bathe and prepare for the wedding. Usually, the bride will wear imported Indian fabrics as well as a decorative coral-beaded headpiece, ankle bracelets and necklaces. The bride's hands and feet may be decorated with intricate henna designs. When she is ready, the father of the bride accompanies her to the church. After the ceremony, there is a party that frequently lasts late into the night. Live bands may perform traditional music while everyone enjoys a meal and dancing. After the party, the bride returns to her father's home to change out of her wedding attire. Her new husband arrives with his family to claim his bride and the couple departs to begin their new life together.
Wedding plans anyone? I would not mind an invite ……View our Picture Gallery for more Nigerian Brides.
Comments
comments