Have A Sneak Peek To Learn Why Everybody Loves Peniel Enchill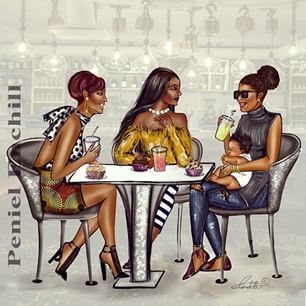 She is the bombshell and I want the world to take note of her. Peniel Enchill, is the next big name you should be keeping an eye on. When I saw this very inspirational illustration going around my social networks I immediately wanted to find out who the author is. I was deeply moved by the message it carried. It got me reflecting why LOVE as priceless as it is, is still so difficult to share? You need to look around you and see what is going on  in the world to resign from being negative and make it your mission to share more LOVE….
… It didn't take too long to find more of her pictures on social media. This young African lady is amazing and deserves this much attention. Yes she is! Peniel Enchill was born in Ghana and raised in England. She aspires to become a Designer. I really wish some big  designer will work with her and transform these beautiful fashion illustrations in to wearable pieces. I believe in her and can't wait to meet her one day for an exclusive interview. Kudos to Peniel Enchill!
Have a sneak peek of her illustrations.
Fashion Illustrations by Peniel Enchill
Photo Credits: https://instagram.com/peniel_enchill/
http://penielenchill.tumblr.com/
Comments
comments