Germany gets a tough try with Cameroon's indomitable lions.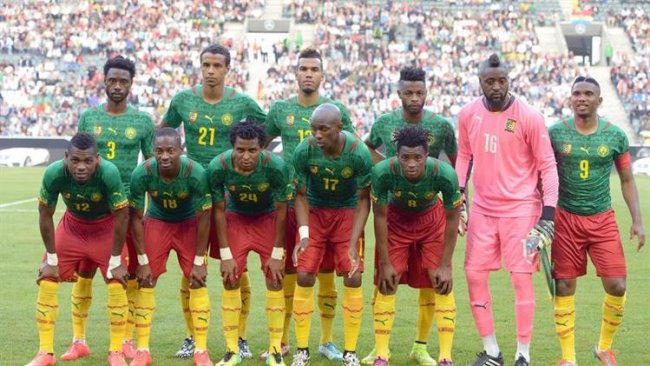 A big shout out to the Cameroonian fans who came out to Mönchengladbach to give their national team all the full support. I could see the goose bumps all over my body while they gloriously sang their national anthem again and again.
Germany controlled the first half and missed a number of clear chances to open the scoring, with Mesut Özil putting the ball wide with only the goalkeeper to beat from 12 yards inside a minute. Mario Götze struck the post after being sent clean through and Sami Khedira headed wide as Germany looked to clinch the goal their dominance deserved. Cameroon grew in confidence as the game went on and shocked Germany with the opener, with Samuel Eto'o scoring from 12 yards before demonstrating his now trademark 'old man' celebration. Germany levelled quickly through Thomas Mueller's excellent header before Andre Schuerrle made it 2-1 with a tap-in after Lukas Podolksi's powerful run and cross – despite the Arsenal forward being clearly offside when he received the ball. Football is a team sport but you can  identify excellent performances by great players when you see them. Mainz's Maxim Choupo-Moting scored a fine equaliser for Cameroon as the African side held Germany 2-2 in their final World Cup warm-up match on home soil. He is clearly one of the most gifted Cameroonian players. He has got a good first touch, dribbles with elegance, has an eye for a defence splitting pass and…he can score.  The game ended with a moment of great quality by Choupo-Moting, who capped a fine individual display with an impressive run and finish into the bottom corner.
 In an interview with Rigobert Song (Manager of the indomitable lions) he expressed his enthusiasm about Cameroon's participation at the world cup..  After talkig to most players of the Camerooonian national team, I was full  hope and enthusiasm as well.  The indomitable lions are full of positive energy and are mentally ready for the challenge. I got infected and affected by this positive energy which I want to pass on.  All the best to our  5 African teams at this world cup. Allez les lions!! Visit our gallery for more pictures.
Comments
comments