From homeland to haute décor.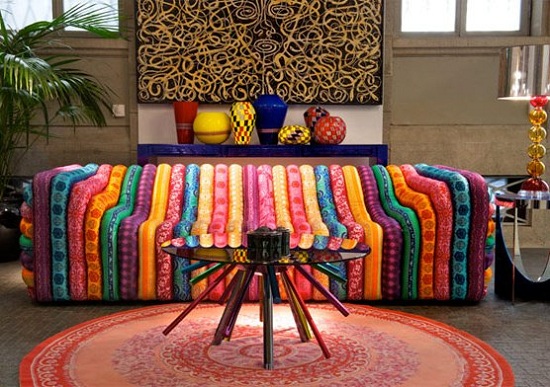 The evolution we see in Fashion and lifestyle offers a new way of thinking – a feeling of African-inspired eclecticism. At the heart of this philosophy we can witness the fusion of world styles deeply referenced to the African culture and themes. The creative use of african inspired themes, like zebra decorations, handy crafts, vibrant colours all  in interior design and other accessorizing concepts allows us (admirers of African lifestyle and fashion, buyers, clients etc) to develop personal spaces that reflect our origin, attitudes and styles. Be inpired!
Eva Sonaike is a London-based lifestyle company producing luxurious home décor, fashion accessories, textiles and interior design solutions that deliver vibrancy and colour to people's homes and wardrobes. Our mission, 'Bringing Colour  to Life' is reflected in signature collections of cushions, bags, notebooks, fabrics and furnishings using African style textiles combined with the finest velvets and leathers. (Statement from Eva Sonaike homepage). Creative Director Eva Sonaike graduated with an MA in Fashion from the London College of Fashion, where she specialized in contemporary African fashion and African textiles.She then pursued an editorial career working as UK Fashion Editor for Hubert Burda Media for five years, working for German Elle, InStyle and Focus. See more picutres of African inspired haute interior décorations.
he African-inspired Qalakabusha ("New Beginning") Couch created by Ardmore Ceramic Art – inspired by the distinctive creativity, wit and luxurious styling of Ardmore Ceramics.
With African wax prints really taking off in fashion, I am sure we will be seeing much more of this trend in interior design in future.
For more on African style trends, take a look at our "African Colour Forecast: A powerful palette of colours", as well as "Ardmore Design: Inspiring Afro-centric design & ceramics".
Comments
comments