Dayan Kodua, "My Black Skin" And My Inspiration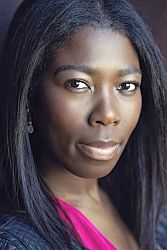 The first time I saw her was on German Television. Back then in the mid 90s, one could count the number of black people that were featured over main stream media. Dayan Kodua is one of those beautiful and successful black ladies I admire.
Dayan Tweneboah Kodua with her parents migrated from Ghana to Germany when she was 10 years old. She quickly found her love for stage performances as a dancer and singer. She has been a public figure and role model since then. She is the only black female person in Germany who won a regional beauty contest (miss Schleswig Holstein). After studying at the popular coaching company in Berlin she started off a career as actress. She has featured in films like "Crank", "In Other Words", "Fleisch ist meine Gemüse" and "The Stoning" just to name a few. She has a heart of a philanthropist and shows it through her social engagements and projects as matron of the Ghanian NGO (www.ghanahilfe.de). My admiration for Dayan does not stop here, she crowns it all as she launches her book project in 2014 called "My Black Skin" 
My Black Skin potrays stories of 25 inspirational and successful Africans in Germany. African-Germans from different professional fields who have made it, irrespective of their skin colour and origin. The message we get here is: it doesn't matter how you look and where you come from, what matters is what you make out of the opportunities you get in life. Unfortunately we never get to see  black people potrayed in the dignified way she did over media. There are so many African success stories in Germany, I am happy Dayan got to address the subject matter in her book. Our children and the next generations of Africans born and raised in Germany need to see and hear these stories as a source of motivation and also to build on their self-confidence.
The opening day of Dayan Kodua's and Thomas Leidig's photo exhibition of "My Black Skin" took place last July 4th 2015 at Hapag Lloyd's Ballin-Halle Hamburg. In the next 6 weeks about 2000 workers and guests at Hapag Lloyd's head quarters will walk through pictures of successful black people in Germany each time they enter and leave the building. This exhibition puts Africans in the heart of Hamburg's economy in a subtle yet intended approach. And in a language every one understands "PICTURES".
The exhibition is open to the public on Tuesdays and Thursdays from 15:00 to 17:00 pm at Ballindamm 25 Hamburg.
Comments
comments