Cooking gluten-free with Maureen Lermer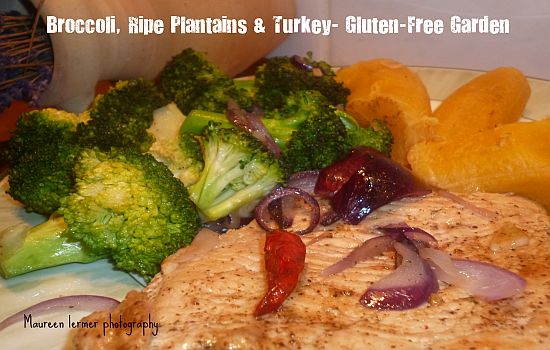 Ripe Plantains with Broccoli and Turkey (with Maureen Lermer  3G Moms)
Here's the recipe!
INGRDIENTS
3-5 large ripe plantains
300 gm. Turkey
2 large onions (chop them)
2-3 cups of Broccoli, washed and cut
1 teaspoon fresh garlic paste
1 teaspoon fresh ginger paste
Salt and pepper to taste
Cooking oil of your choice
Thyme
DIRECTIONS for cooking the plantains
Into a pot, bring water to boil. Wash, peel and cut plantains into 3 parts, put into the boiling water cook for about 25 minutes.
Directions for cooking the Broccoli
In a pot, pour 2 eating spoon oil (do not overheat). Add a handful of chopped onions, garlic and ginger paste and stir for 3mins
Add Broccoli, stir and let it simmer for about 3-5 minutes. Add Pepper and salt to taste.
Directions for cooking the Turkey
Wash and marinate it with pepper, salt, ginger, garlic and Thyme. In a nonstick frying pan, pour 1 tablespoon oil put in the remaining chopped onions let it to simmer for 2mins
Add the marinated Turkey and let it cook until well done.
Bon Appetite! by Maureen Lermer.
Comments
comments