Am Weltkindertag 2015 Sind "Alle Kinder Wilkommen"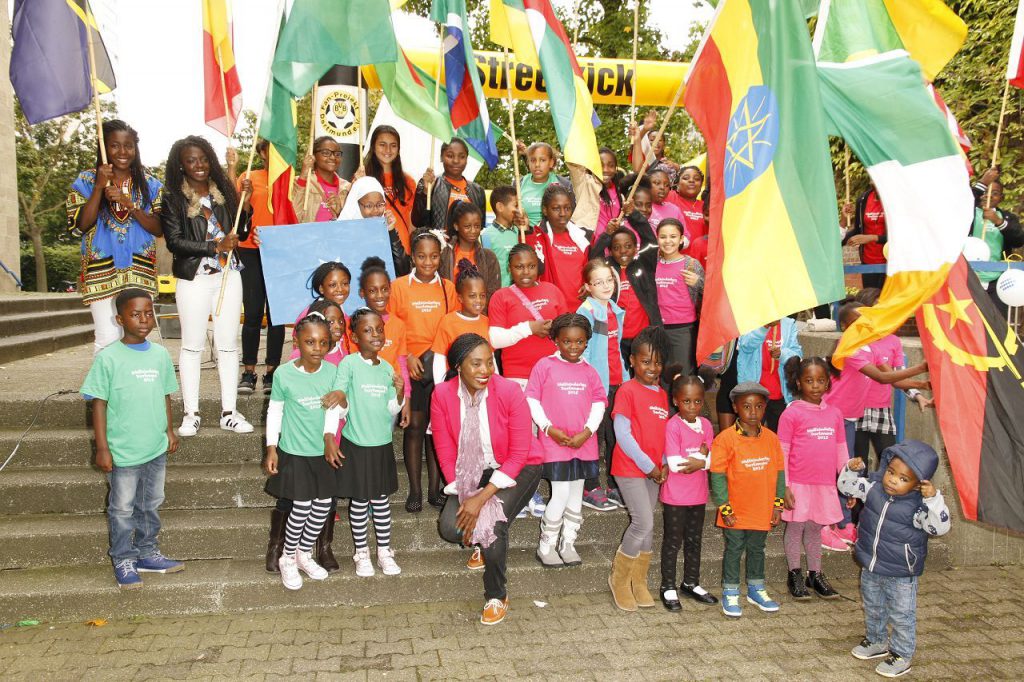 Pünktlich um 13:00 Uhr letzter Samstag marschierten 52 Kindern mit afrikanischen Wurzeln in die <International Life Changing Church> am Bornstrasse 61 in Dortmund,  jeweils mit einer Flagge dass, ein Land aus dem Kontinent repräsentiert. Das Motto des diesjährigen Kindertages, "Alle Kinder Willkommen" vermittelte Frau Atanga Patience, Fachreferentin für Kinder mit afrikanischem Hintergrund der Stadt Dortmund u. a in ihrer Eröffnungsrede. Unmittelbar danach ging das eigentliche Programm mit diversen Aktivitäten los, eine Modeschau zum Thema 'African Print', der Karaoke-, Lese- und Tanzwettbewerb usw..
Die Freude unter den Kindern war riesig und anstehend. Zudem überzeugten die Kinder mit ihren unterschiedlichen Talenten nicht nur die Jurymitglieder, sondern auch das Publikum. Diese waren wiederum von Begeisterung geprägt.  Vor dem Essen fand es die prémière der Bino & Fino show statt. Allgemein ist zu sagen, dass die Stimmung weitgehend ausgezeichnet war. Das Publikum war eine bunte Mischung von Menschen mit verschiedenen Migrationshintergründen inklusive deutsche Mitbürgerinnen die das Programm mit einer ausgezeichneten Leistung bewerteten. Einige bekannte Gesichter wie dass, von Frau Veya Tatah (Africa Positive), Frau Rosalyn Dressman (AfricaTide Union) und Herr Kervin Ndeme Matuke (Mitglied des Integrationsrates) haben die Veranstaltung mit ihrer Präsenz bereichert. Zur Krönung der Feier gab es reichlich zu essen und trinken à afrikanisch. Am Ende bekam jedes Kind eine Teilnahme Urkunde vom Stadt Dortmund während die Hauptgewinnern Preise in Form von Gutscheine mit nachhause nahmen.
Last Saturday 19. September 2015, 52 children of African heritage marched in to the Life changing International Church on Born street 61 in Dortmund. Each of them carried a flag representing at least one Country from the African continent. "All Children are Welcome" expressed Ms Atanga Patience of the Dortmund State Council, in her speech as motto of this year's World Children's Day. The highlights of the event were the Fashion show, dancing, singing and reading competition. The audience was mesmerised by the great talents showcased by the children during the various activities. Not only were the jury members impressed but also the multicultural audience who couldn't stop applauding as little Pelly Mekah put up her dancing show.
The screening of the Bino & Fino cartoon show towards the end was another experience of its own. The children showed lots of interest as they quietly watched and at the end challenged the moderator Ms Antonia M. of Maischna Magazine with lots of questions about their motherland Africa during the FAQs. Children are such a blessing and it is our responsibility as parents and society to protect and care for them. Happy WCD 2015!!
Comments
comments